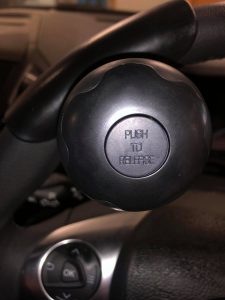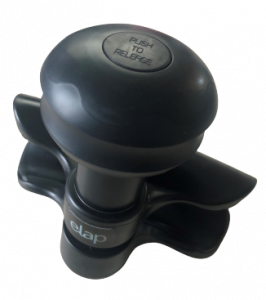 The Elap Steering Ball has been designed to aid users who have difficulty holding or turning a steering wheel. The Steering Ball can be used independently or in conjunction with many other driving controls.
This simple and cost-effective device can give the driver much more control when steering the vehicle.
The Elap Steering Ball has a quick release pin enabling users to detach the ball from the clamp to drive conventionally again in seconds. The Ball can be installed in a position on the wheel which is most comfortable for the driver. This provides the driver with confidence that the fixing is safe and presents them with the best possible driving experience.
When using hand controls, one hand must always be controlling the acceleration or braking function. The Steering Ball allows drivers to have full control of the steering wheel with the other hand.
Key features:
Aids those with difficulty holding or turning a steering wheel
Can be installed in a position which is most comfortable for the driver
Quick release function to allow for conventional driving
No permanent modification to the vehicle
Transferable from vehicle to vehicle