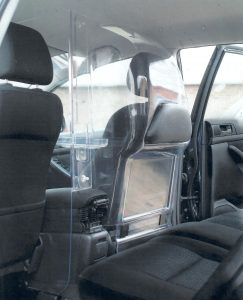 ** Perspex Protection Screens are an ideal solution to improve the safety conditions of drivers and passengers. The screens provide a safety shield to help prevent the spread of Covid-19.
Perfect when having to share a vehicle with non-members of your household, the screens can provide extra peace of mind whilst still allowing communication. **
Perspex Protection Screen designed with driver safety in mind!
Drivers can be at higher risk of physical distractions when carrying passengers with special needs or disabilities.
Various bespoke options available
Available for taxi's, minibuses, WAV's and private vehicles
Stylish, flexible and adaptable
Designed for protection
Made from high impact-resistant PETg or polycarbonate plastic
The impact resistant plastic used in manufacture conforms to rigorous ISO / EU testing
 Simple to install and with quick release fittings for easy transfer to another vehicle
There are no screws or bolts into the fabric of the vehicle. All belts and fittings are on the inside of the shields with nothing visible which can be interfered with by rear seat passengers